Free Robert Beltran!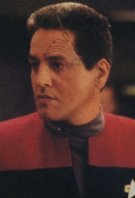 I'm starting a new campaign. The short version: Bring Robert Beltran over to Roswell when his Voyager gig is over! In a recent interview, First Officer "Chakotay" on Star Trek: Voyageris bored, bored, bored with the tired scripts he's been given on Voyager. Who can blame him? Voyager was completely botched --seven years of missed opportunity. Life on the good ship should have devolved out in the Delta quadrant, stripping all the Federation protocol down to the most important elements of comeraderie and personal loyalty. Voyager should look about as much like a Federation vessel when she gets back to the Alpha quadrant as a pirate ship looks like the QE2. Anyway, As soon as Beltran gets out of his contract (which considering his disparaging remarks about Voyager may be sooner than he thinks) we should bring this much needed Hispanic Hunk over to Roswell. And what should he be, you ask? A BAD GUY!! Now that the ET's have phoned home, we know there are some bad aliens out there who will be zeroing in on the sleepy hamlet of Roswell. Let's write a great, meaty part for Beltran, a mixture of charm and malevolence, the bad guy you love to hate...hate to love...a guilty pleasure. You get the idea. Especially someone to give the sheriff a run for his money! In short, the leader of the Bad Aliens! So this is the beginning of my personal crusade to bring Robert Beltran to the cast of Roswell...(are you listening producers? ...especially a couple with a close connection to a certain sci-fi franchise?)
What were they thinking!!!